Hello! Here is another watercolor. It was inspired by a story Jacob Shiach is in the process of writing.
A quick summary; A pompous, annoying tropical bird gets lost and drifts to the Antarctic and a friendly penguin finds her.
This is when she arrives at the Antarctic, unconscious on a log.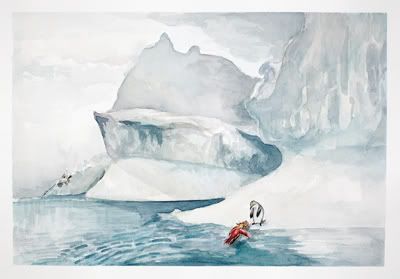 A Detail
Well, You can see it better on my
flickr
Also, How am I doing? I am sure fellow reader you are wondering. Well I have been pretty good. I got over something that had been bugging me these past few days. I had no idea what was wrong with me, today my whole body aches, but my mind is feeling better. I love painting.
Ok, well happy Labor Day weekend everyone.